Gregory Evans Spoke To More People Around The World About Cyber Crime Than Any Other Computer Security Expert.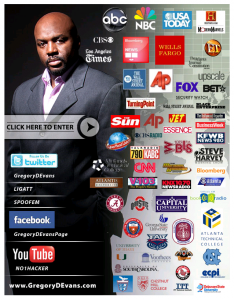 Evans's expertise is frequently featured in a variety of media outlets including, The History Channel's "Modern Marvels". On the program, he demonstrated the capabilities of computer surveillance and the destruction of cyber terrorism, as well as discussed how spyware works and taught viewers how to protect their wireless networks. Evans has also been consulted on the highly rated, NBC's Dateline "To Catch a Predator". He has been featured in numerous newspapers and magazines including the Wall Street Journal, Sun Newspaper, LA Times, USA Today, Black Enterprise, Wells Fargo Business Journal, and JET magazine, to name a few.
In the year 2000, Evans produced and co-hosted one of the first radio talk shows addressing hi-tech crimes. Cyber Crime Radio was broadcasted on KIEV in Los Angeles, California, which is the second largest radio market in the country. Furthermore, Evans had a daily show called the Cyber Security Minute on KNX 1070that gave advice to listeners on how to protect themselves from becoming victims of hi-tech crimes. Not only has Evans spoke on his own radio shows, he has also been a guest on the very popular, syndicated, Tom Joyner Show and the Michael Baisden Show, discussing the highly controversial topic of identity theft.
Evans has spoken at the 2008 and 2009 National Bar Association Conference in explaining to lawyers and law firms across the nation on how to properly protect themselves, their business and their clients' information.
In addition, Evans has spoken at the 2010 FAA Cyber Security Seminar, the 2010 and 2011 Campus and Fire Safety Conference & Expo, Ohio State, University, Voorhees College, ITT Technical Institute, South Carolina State University, University of South Carolina, Midlands Technical College, University of North Carolina, Chestnut Hill College, University of Alabama, and many more.
In 2012 Mr. Evans has spoken at Georgia Tech, Georgia State, Women in Federal Law Enforcement and over 5,000 kids and parents in the Virgin Islands on Cyber Bullying.
---
CLICK ON EACH ONE TO READ MR. EVANS REPORT CARDS